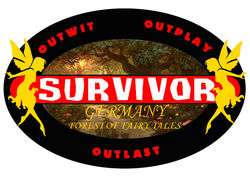 20 Castaways will be dropped of in the middle of the most well-known forest in the world, the Enchanted Forest; known to be the setting of many of the Grimm Brothers Fairy Tales.
Some People were offered but declined were.Morgan Mcleod,Jefra Bland,Danielle DiLorenzo,Marissa Peterson,Rc Saint-Amour,Abi-Maria Gomes,Rachel Folder,Cirie Fields,Natalie Bolton,Jenna Morasca,Danni Boatwright,Laura Alexander,Julie Mcgee, Monica Culpepper,Aras Baskauskas & Hope Driskill.
Some people couldn't because of work including.Bob Crowley,Sherri Biethman,Sugar Kiper,Russell Hantz,Jerri Manthey,Colby Donaldson,Allie Pohevitz,Dawn Meehan,Tony Vlachos,Courtney Yates,Brenda Lowe,Corinne Kaplan,Amanda Kimmel,Parvati Sallow,Andrea Boehlke & Lisa Whelchel.
Aras Baskauskas,Hope Driskill & Jefra Bland was replaced by John Cody,Candice Cody & Tina Wesson.
Castaways
Edit
Castaway
Original Tribe
Switched Tribe
Merged Tribe
Finish

Laura Morett
Enkidu
20th

Erik Reichenbach
Gilgamesh
19th

Katie Collins
Enkidu
18th

J.T Thomas
Enkidu
17th

Brad Culpepper
Enkidu
16th

Spencer Bledsoe
Gilgamesh
15th

John Cochran
Enkidu
Enkidu
14th

Malcolm Freberg
Enkidu
Enkidu
13th

Sierra Reed
Gilgamesh
Gilgamesh
Myrkviðr
12th

Kat Ederson
Enkidu
Enkidu
11th

Rob Mariano
Gilgamesh
Enkidu
10th

Todd Herzog
Enkidu
Gilgamesh
9th

John Cody
Enkidu
Gilgamesh
8th

Eliza Orlins
Gilgamesh
Enkidu
7th

Candice Cody
Enkidu
Gilgamesh
6th

Tina Wesson
Gilgamesh
Enkidu
5th

Natalie Tenerelli
Gilgamesh
Enkidu
4th

Amber Mariano
Gilgamesh
Gilgamesh
3rd

Ciera Eastin
Gilgamesh
Gilgamesh
2nd

Hayden Moss
Gilgamesh
Gilgamesh
1st
Original Tribes
Edit
Gilgamesh
Edit
Switched Tribes
Edit
Gilgamesh
Edit
Merged Tribe
Edit
Challenge winners and eliminations by episode
Episode title
Original air date
Challenge winner(s)
Eliminated
Finish
Reward
Immunity
Is That the Right Move?
February 13,2013
Enkidu
Gilgamesh
Laura
1st Voted Out
Taking Out the Dumb Blonde.
February 20th,2013
Enkidu
Erik
2nd Voted Out
Family Members
February 27th,2013
Gilgamesh
Katie
3rd Voted Out
Tricked by a Witch
March 5,2013
Enkidu
Gilgamesh
J.T
4th Voted Out
The Odd Girls Out?
March 12th,2013
Gilgamesh
Brad
5th Voted Out
The Time is Now!
Match 19th,2013
Gilgamesh
Enkidu
Spencer
6th Voted Out
The Switch
March 26th,2013
Gilgamesh
Cochran
7th Voted Out
Cookies & Brownies
April 2nd,2013
Enkidu
Gilgamesh
Malcolm
8th Voted Out
I didn't Know?
April 9th,2013
Kat
Sierra R.
9th Voted Out(1st Member of Jury)
Hopefully It's Not Me.
April 16th,2013
Rob,Ciera,Amber,Tina,Todd.
Hayden
Kat
10th Voted Out(2nd Member of Jury)
Muddy Waters
April 23rd,2013
Tina,Candice,Ciera,John,Eliza.
Hayden
Boston Rob
11th Voted Out(3rd Member of Jury)
The Auction
April 30th,2013
Auction
Eliza
Todd
12th Voted Out(4th Member of Jury)
2 Remaining Guys
May 7th,2013
Eliza
John
13th Voted Out(5th Member of Jury)
My Time to Shine
May 14th,2013
Amber
Eliza
14th Voted Out(6th Member of Jury)
The Family
May 21th,2013
Tina(Natalie)
Hayden
Candice
15th Voted Out(7th Jury Member)
Finale Part 1
May 28th,2013
Ciera
Tina
16th Voted Out(8th Jury Member)
Finale Part 2
May 28th,2013
Amber
Amber
Natalie
17th Voted Out(9th Final Jury Member)
The Reunion
June 4th,2013
Jury vote
Amber
Runner-Up
Ciera
Runner-UP
Hayden
Winner
Final Tribal Council
Edit
Vote 6-1-1
Voted for
Winner
Voter


Hayden (6 votes)


Ciera (1 votes)


Amber (1 votes)

Runner-Ups

Winner
Ad blocker interference detected!
Wikia is a free-to-use site that makes money from advertising. We have a modified experience for viewers using ad blockers

Wikia is not accessible if you've made further modifications. Remove the custom ad blocker rule(s) and the page will load as expected.